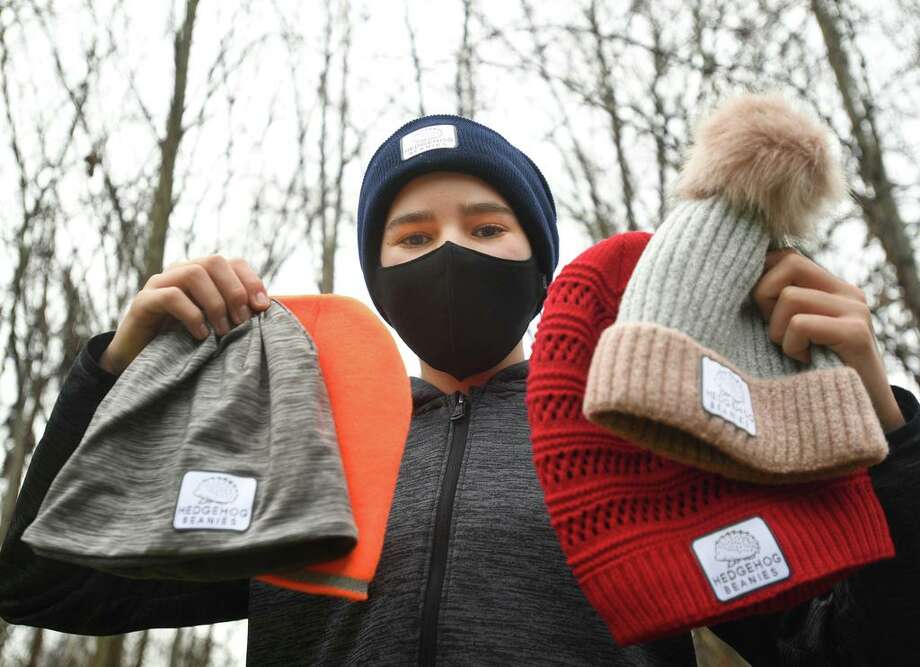 Photo: Brian A. Pounds / Hearst Connecticut Media

GUILFORD — Giving back has been a big part of Cooper Schwartz's childhood.
So, when the pandemic forced everyone to quarantine, the 14-year-old put on his entrepreneurial cap.
Literally. He created Hedgehog Beanies.
After years of working to help protect those experiencing homelessness from cold New England winters, Schwartz said he came up with the way to offer cozy caps to the community at large, while at the same time continuing his mission of offering a warm, comfy hat for the homeless.
For every beanie sold, via hedgehogbeanies.com, Schwartz donates one to his project to help homeless people.
"I've always been interested in business and I just thought I could learn how to run a business and feel great helping people and really make a difference," the Guilford High School freshman said.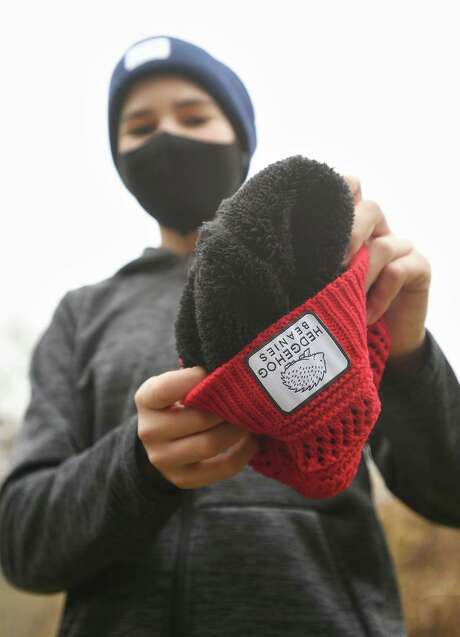 Photo: Brian A. Pounds / Hearst Connecticut Media

Why the hedgehog logo?
"We just thought of hedgehog and we thought it's a pretty popular thing with millennials and teenagers," Schwartz says. "We just thought it was a really cool animal."
Working with the less fortunate is a family affair. For the last four years Schwartz, his 8-year-old brother, Cameron; 13-year-old sister, Avery, and his parents, Ian and Lauren, have distributed hats, scarves, gloves and socks to people experiencing homelessness on and around the New Haven Green.
It was while working on clothing drives while attending The Country School in Madison that Schwartz recognized the need to help the people in New Haven.
"It's really inspiring talking to them, and the main things that they said they needed were these things [hats] ," said Schwartz. "So, I just wanted some way to be able to donate all these things to them and help them, especially during the pandemic."
During months of quarantine and remote learning, the idea for Hedgehog Beanies began taking shape.
"If it wasn't for COVID I don't think I would have ever started this business," Schwartz says. "I'm not saying COVID is good, but I think it really gave me time to start my business, being home more."
With money saved from refereeing youth hockey games, selling items on eBay, doing chores around the house and a loan from his dad, Schwartz embarked on the project in June.
For some five months Schwartz focused on learning the intricacies of running a business, with help from his dad and grandfather, and evaluating samples of beanies before choosing a company that could supply his company with the best product.
The Hedgehog Beanies patch is affixed to the front of the caps after is arrives at the Schwartz home.
There area a variety of colors, styles and material to choose from, including cashmere hats with pom poms, Sherpa fleece lined caps and a spandex wind resistance, fleece lined cap.
State Rep. Sean Scanlon, D-Guilford, who purchased a navy blue "4T" for himself and a grey hat for his wife, Meghan, raves about his cap.
"Mine is lined and super warm," said Scanlon.
Every style is named after a hedgehog, with a photo and description of each specific namesake on the website.
Scanlon's cap is named after the "Four-Toed Hedgehog (the 4FT)."
The website explains this spiny mammal, noting: "is found in central and eastern Africa. Named for the number of toes on its hind feet (unlike the five of related species), these little guys loves life when they aren't being hunted by jackals, hyena, owls and badgers. In addition to protection from their spines, they are also highly resistant to scorpion and snake toxins. Don't mess with these guys!"
The description of each hat also includes a rating for softness, depth, grip and material thickness.
"The hats, in and of themselves, are super cute … but then, really in truly, behind it all I like the fact that he's a 14-year-old kid who has such an entrepreneurial vision and what I love about it all is that he's giving back to society," said Melissa Donlan.
The Madison resident and owner of the newly opened Spavia Day Spa, Guilford Commons not only purchased beanies for herself and all her staff, but added a collection of beanies to her retail inventory.
Donlan was thrilled to outfit her window mannequin with a light grey and pink Northern White beanie.
"She's much warmer and she's happy and she gets a lot of compliments," said Donlan, laughing. "She's got a cute sparkling mask on and then the hat."
While the idea has grown to include donating beanies to shelters throughout New England, the family still keeps the New Haven homeless population forefront in their minds.
Bundles are created and Ian Schwartz keeps them in his car as he commutes to New Haven for work.
"He actually has a bunch of beanies and socks and gloves, little care packages, in his car and whenever he sees someone of the side of the road he stops and gives it to them," the younger Schwartz said. "They really appreciate it."
To date, two months after launching the business, Schwartz has sold 650 beanies.
Some 400 Hedgehog Beanie caps have been distributed to those in need and boxes of additional winter essentials are sent out weekly to various programs throughout New England, with additional donations from family and friends.
"It's really cool, a lot of people are definitely donating to this cause," said the young entrepreneur.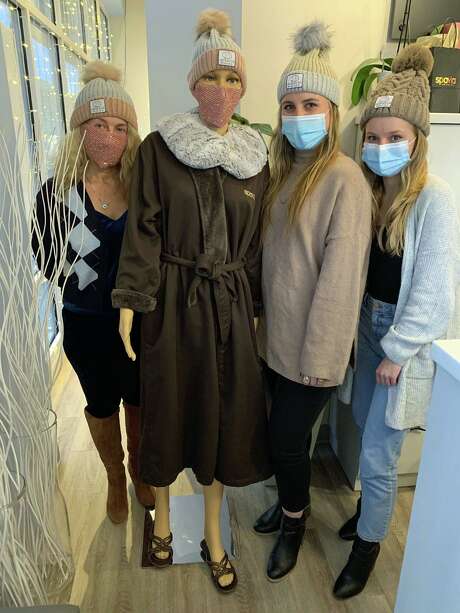 Photo: Sarah Page Kyrcz / Hearst Connecticut Media

Organizations Schwartz has worked with include Columbus House in New Haven, Bridgeport Rescue Mission, My Sister's Place and Mercy Housing and Shelter Corp. in Hartford, New London Homeless Hospitality Center, in addition to others in Rhode Island, Boston and Springfield, Mass.
Schwartz expects to be extra busy with his business and charitable obligations in the coming months.
"What people forget is that the next three months are actually the coldest and we need to continue those in need," he said.
For Scanlon, while the hat is comfortable and warm, the charitable aspect of Hedgehog Beanies is forefront in his mind when sporting the cap.
"The best part about what he's doing is that he's donating one for every one that he sells," said Scanlon. "There's definitely been a few times when I've worn that hat when I'm walking outside that I think about what it would be like if I was sleeping outside wearing that hat and how much of a difference that would mean to me."
For more information visit Hedgehog Beanies, hedgehogbeanies.com; Facebook Hedgehog Beanies
Contact Sarah Page Kyrcz at [email protected]